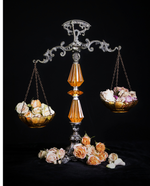 This article was originally posted September 29th 2023 as part of our Olfactory Allies and Fragrant Talismans newsletter series, which highlights correlations between astrological transits and fragrant plant matter. View the full newsletter here.


Rose · Apple Blossom · Myrtle 
Yarrow · Damiana · Ylang Ylang
Last month, Virgo urged us to rethink, rework, and redistribute how we organize our resources, but we may have found our desire for control thwarted as we navigated a series of disharmonious retrogrades. These periods, which oft require much unearthing and leave behind quite the mess, can be disorienting—but thankfully, along came the Sun's ingress into enchanting Libra on September 23rd, along with the Autumn equinox.

Libra carries with them the sweet scent of the season's tricks and treats on the air, and feels right at home partaking in rites of gathering, apple-picking, and admiring the butter yellow hues of hay, husks, and goldenrod.. So—how have the first days of this Venusian season been treating you? Have the scales helped restore your footing after the initial tumble into the month? Libra is delighted to restore order, and beckons us to savour the slow, dizzying ecstasy of transmutation. Change occurs to reinstate equilibrium, after all, and we're choosing to gracefully lean into the pull.


R O S E
Iconic acolyte of love, desire, and beauty, Rose balances the supple energetic touch of its petals with the fierce defenses of its thorns. Call on and commune with her in all Venusian matters.
A P P L E   B L O S S O M
Apple blossom's signature is fertile and pacifistic. Reach for it when looking to foster fertility, abundance, and creativity, or to quell quarrels and restore balance through discordance.

M Y R T L E
Myrtle, a herbaceous, aromatic floral, is sacred to Venus. It's believed to help dispel feelings of hopelessness and suppress self-destructive patterns, restoring balance and beauty within ourselves.


Y A R R O W
This restorative plant is one of Venus' most generous gifts. It can soothe the skin and mend a weary heart, overseeing the ebbs and flows of our body and soul with a focus on boundaries and healing.


D A M I A N A
A popular herbal aphrodisiac, Damiana calls us into more than just love and pleasure; it nourishes and supports the body and mind, easing us into into joy and connection with its captivating scent and energy.


Y L A N G   Y L A N G 
This sunny bloom's heavenly scent alone moves us with its beauty. Ylang ylang can be used to help balance polarized energies (masculine and feminine, material and spiritual) by weaving them into a complete energetic whole.
As always, thank you for taking this time with us. Through this astrological series, we hope to help you familiarize yourself with different plants and ways of communing with them.

May the season bring you brisk mornings, warm meals, and a glowing heart, hearth, and home.
With reverence,
LVNEA